Laminate Flooring in Ocean City, MD
If you're looking for a new laminate floor, turn to us at OC Floor Gallery to help you make your renovation dreams become a reality. Our flooring store offers services ranging from custom home measurements to product selection and final installation. Our selection of laminate flooring will bring beauty and strength to your home all while being budget-friendly. Advances in manufacturing have improved laminate flooring and made it an ideal choice for any homeowner looking for stylish and durable flooring.
Our well-stocked showroom in Ocean City, MD, carries the latest laminate styles and offers our customers an impressive selection of products from the industry's leading brands. With an inventory containing designs built to authentically mimic hardwood and tile, you'll be able to enjoy the elegance of hardwood or ceramic in high-moisture areas without fear of warping or water damage. We use Flooring America's 500-store buying power to purchase flooring at excellent rates and pass the savings along to our customers. Some of the well-known laminate brands you can find at our showroom are:
Armstrong

Floorcraft Maysville

Mohawk

Shaw Floors

Mannington
Laminate's Makeup & Many Benefits
Laminate has a solid appearance that contains four distinct layers. It is created using a direct- or high-pressure method. The direct-pressure method fuses all four layers at one while the high-pressure method fuses each layer one at a time with higher amounts of heat and weighted pressure. Both methods make a strong and beautiful flooring that is available in many different colors, designs, and patterns.
Laminate is made to perfectly mimic the look of high-end flooring types like hardwood and natural stone. Whether you are looking for laminate that has a rustic, traditional, or contemporary feel, you are sure to find your perfect laminate flooring. The laminate floors that we carry are available in a wide range of shapes, textures, stains, and sizes. They are reasonably priced, fit perfectly with any decor style, resilient to any kind of damage, easy to clean, and are water-resistant.
Types of Laminate
Laminate Wood Flooring
Our laminate wood flooring offers the same beauty and traditional look as hardwood floors, but it is more durable and low-maintenance. Laminate wood flooring can look just like your favorite hardwood species such as mahogany and oak and this is because of the laminate's high-quality photogenic top layer. Laminate has layered construction with a clear coating on top that allows you to see the image of wood beneath. Behind this is a sturdy wear layer that stabilizes this flooring and a backing layer that resists moisture.
Laminate Tile Flooring
Stone and tile add richness to any living space. Laminate tile flooring replicates the highly desirable appearance of real stone flooring at a lesser cost. Our stunning collections of laminate resemble quarried stone, porcelain, ceramic, glass, and more. Select the floors that resemble your favorite stone or tile, and you'll receive a high-end look without enduring a high-end price.
Keeping Your Laminate Flooring Clean
Laminate flooring can really make a difference in your home. In addition to its wide range of colors and finishes, laminate flooring is low-maintenance and offers easy upkeep. While many other flooring materials require periodic refinishing and touch-ups, laminate requires very little of your time and energy. Simply keeping it clear of dirt and debris with the occasional sweeping and mopping is all you need to do to extend the look and lifetime of these floors. We recommend using a laminate cleaning product for the best results. Be sure to check your new floor's warranty before using any cleaning products as they could harm your new floors. We are more than happy to make a product recommendation that fits your warranty.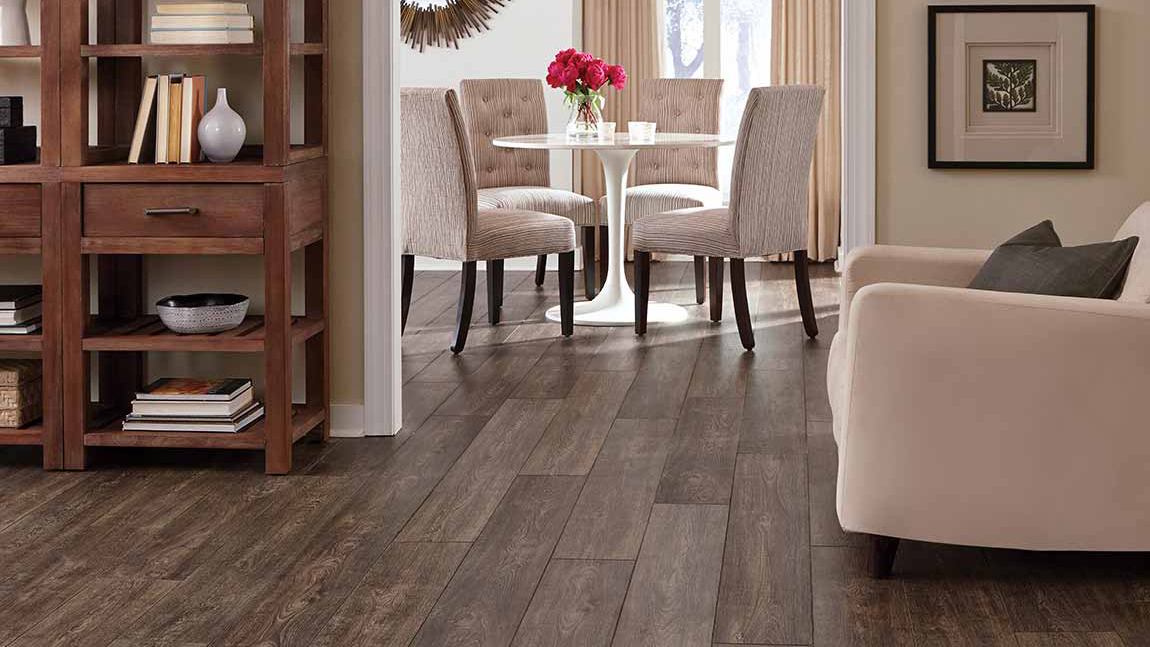 Professional Laminate Flooring Installation
Make the most out of your flooring investment by leaving your flooring installation needs in the hands of our trained professionals. By trusting our skilled professionals with the installation of your new floors, you can have the utmost confidence that every piece will be perfectly placed. Our team of installers has many years of experience, enabling us to address any issue during the installation promptly. Whether you are redoing one room or laying laminate floors throughout your entire home, take advantage of our competitive rates and fast installation times.
Count on us for experienced and detailed flooring contractors with the skills and experience to properly install every piece of laminate in your home. With our help, you never have to worry about your flooring project. Our Ultimate Confidence Guarantee ensures a no-cost repair, should something go wrong following installation.


Contact us for more information on our laminate flooring selection. We proudly serve Ocean City, MD, and the surrounding communities.