Hardwood Flooring in Ocean City, MD
Elevate the interior of any room or space by investing in high-quality hardwood floors at the OC Floor Gallery. With our impressive hardwood flooring selections and expert installation services, your flooring renovation will be a worthwhile investment. We offer hardwood flooring products that enhance interior designs, improve property values, and so much more. Visit our Ocean City, MD, showroom to browse our gorgeous selection of hardwood flooring and discuss your project with our helpful team!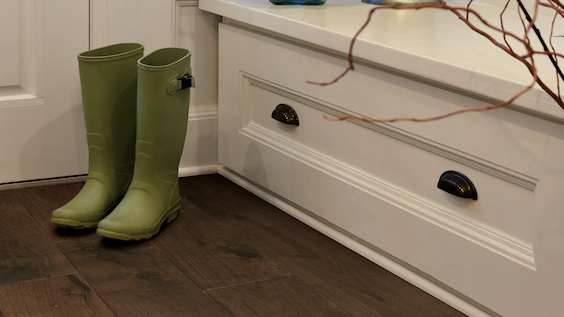 Hardwood Flooring Selection Made Easy
If you aren't sure which type of hardwood floor you are looking for, a member of our OC Floor Gallery team will be available to help you every step of the way. Our team is flooring and design experts who can help you find the perfect fit for your home. We'll assist you by showing you the different hardwood flooring options from our stock so that you can find the ideal flooring that meets your unique needs. We'll be sure to take into account your current design aesthetic as well as your tastes. With our team of flooring specialists, you're sure to find the perfect floors for your home.
Finding The Perfect Hardwood at Our Local Flooring Store
We know the decision of which hardwood flooring type to choose from can be difficult, especially with all of the many appealing hardwood styles and species to choose from. At our store, we are proud to partner with quality hardwood brands from the best manufacturers, including Aquadura H2O, Downs, Floorcraft, and more. When you allow our associates to help you find the perfect product for your home, we take your expectations in stain, grain, texture, and finish into account. Rest assured we truly listen to your lifestyle and design goals to find the best type of hardwood flooring for your project!
Types of Hardwood Flooring: Solid vs. Engineered Hardwood
From kitchens and bathrooms to living rooms and dining rooms, both our solid hardwood flooring and engineered hardwood flooring will provide you with the right amount of style, functionality, and durability to fit your needs. Both types of hardwood we carry have their advantages and could be a great addition to your home. Learn more about solid and engineered hardwood:
Solid Hardwood Flooring
This style is sold as planks that are one genuine piece of hardwood and it offers the most natural appearance. Thicker in construction, solid wood is a sturdy flooring choice that can be given a satin, matte, or gloss finish, depending on your preference. With proper care, solid hardwood can last a lifetime and is perfect for bedrooms, living rooms, dining rooms, and hallways.
Engineered Hardwood Flooring
This style is made from three or more layers of wood cross-directionally laminated and fused with a top layer of premium solid hardwood veneer. Engineered hardwood is more resistant to moisture and humidity than solid hardwood, which makes it perfect for below-grade installations where dampness is common. It is a great choice for kitchens, bathrooms, and basements while resisting warping in Ocean City's humid months.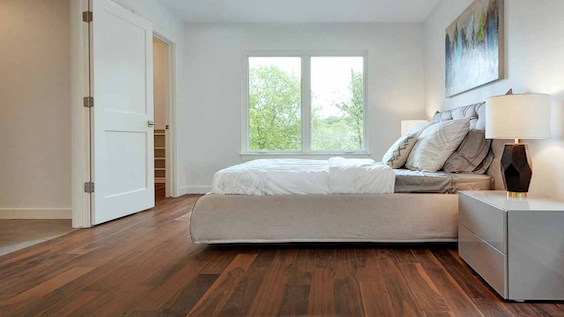 Benefits of Hardwood Flooring for Any Ocean City Home
Hardwood floors can completely transform any space, whether you're looking for the pure traditional look of solid hardwood or want to give your home a modern twist with engineered flooring. Hardwood floors are an ideal flooring material due to its many performance and design advantages. Our Maryland customers love its classic beauty along with constantly improved durability. Discover all the benefits of hardwood floors, including:
Regardless of which type you choose to go with, hardwood floors increase the value of your home due to their lasting beauty.
Hardwood flooring is extremely durable in high-traffic areas, and even high-moisture environments with engineered wood floors.
Versatile in design, hardwood floors look stunning no matter how you style any room.
With proper care and maintenance, hardwood can be used for decades without showing any signs of wear and tear and maintaining its like-new shine.
Professional Hardwood Flooring Installations
Our commitment to your satisfaction doesn't end when you make a purchase! We continue to provide clients just like you with exceptional service throughout the process of installation. Our staff includes several in-house technicians who have years of experience in hardwood flooring installation. This allows them to complete even the most extensive jobs in a timely manner.
Our hardwood flooring installation services are backed by our Adore Your Floor Guarantee. This guarantee is our promise to you that if you are unhappy with your new flooring for any reason, we will replace it with a similar wood solution at no additional cost to you. Rest assured we have your best interests in mind at every step of your hardwood flooring renovation.
Contact us to learn more about our hardwood flooring selections and services. We proudly serve Ocean City, MD, and the surrounding communities.